MID-CENTURY PRODUCTIONS PRESS/RESOURCES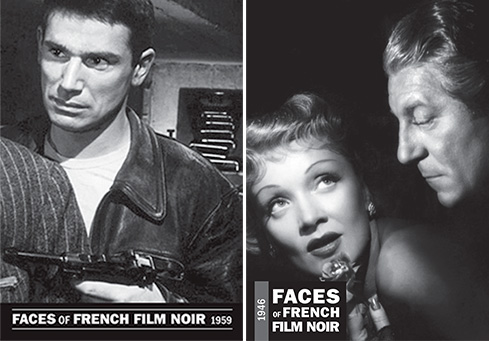 FACES OF FRENCH FILM NOIR: THE ULTIMATE VISUAL GUIDE TO "THE LOST CONTINENT"
The standing joke repeated at every French film noir festival is that the films are just an excuse for Don Malcolm to make postcards. And that ever-expanding product line is proving so popular that there will soon be an online store coming later in 2017. In the meantime, Don is hard at work at his biggest postcard set yet—FACES OF FRENCH FILM NOIR—an amazing set that will eventually include more than 100 postcards featuring the actors, actresses, directors, writers, screen couples, and sex symbols who embodied the essence of French noir.
Each card is 5" x 7" and has a 300-350 word essay written by Don Malcolm on the reverse side. "It's so massive that we'll be bringing it out in special 7-card sets throughout 2017," Don says (with that telltale gleam in his eye). "We hope to have the special collector's edition—which will include a series of special poster postcards that will be exclusive to the set—available in time for Christmas." A special preview page will appear later this summer with more info about current and future sets, and the special collector's edition. Join our mailing list for news updates.
MAY 5-8, 2017 ▪
ROXIE THEATRE

▪

RARE NOIR 2
INTERNATIONAL NOIR REVISITED, 1947-1966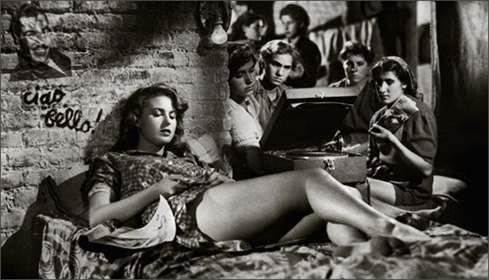 RARE NOIR returns to San Francisco's Roxie Theatre with 12 rarely screened noir films from 11 countries.
Roxie's International Noir Series Turns Up the Heat
"The recent heat wave to blanket the Bay Area ain't got nothin' on the second edition of the international noir festival at the Roxie Theater. Sweltering heat drenches this 12-film, four-day series, which goes by the name A Rare Noir Is Good to Find 2 — if not in outright temperature, then certainly in passion."
—G. Allen Johnson on SF Gate
A Rare Noir is Good to Find 2 Unearths International Gems at the Roxie
"You may not have noticed it, but foreign films have grown increasingly scarce on American movie screens....Offering twelve features from 11 countries... the four-day series provides a few titles that are well-known (at least in their countries of origin), along with others that no doubt haven't been seen in the Bay Area for over half a century, if ever."
Dennis Harvey on 48Hills.org
More Foreign Noir at the Roxie
"These films are time machines capturing ways of being no longer possible that, at the moment of filming, were the most ordinary and taken for granted. This privileged view of the Past, the trick of the camera to make you believe you're watching real people walk through cobblestone streets and sit at cafe tables 60 years distant, is perhaps the best possible mental vacation you can buy for the price of a ticket."
Erin Blackwell on The Bay Area Reporter
Don Malcolm Discusses the Shocking Abundance of Long-Lost Foreign Film Noir
"The U.S.-centric view of noir has been entrenched for 60 years, but it really is a serious historical inaccuracy.... Clearly noir became an international cinematic language in the years following World War II....It's fascinating to see how this converges and diverges as a result of how the filmmakers have confronted a different experience."
Owen Field interviews Don Malcolm on EatDrinkFilms.com

READ THE PRESS RELEASE
NOV 3-7, 2016 ▪
ROXIE THEATRE

▪

THE FRENCH HAD A NAME FOR IT 3
FURTHER EXPLORATIONS IN CLASSIC FRENCH NOIR, 1939-1965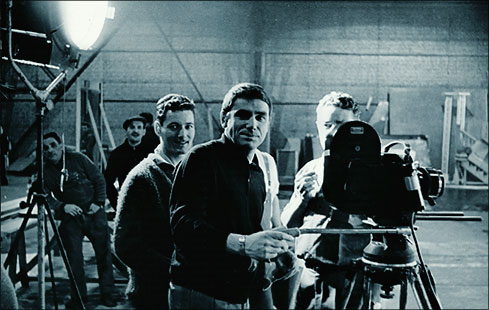 THE FRENCH HAD A NAME FOR IT returns to San Francisco's Roxie Theatre showcasing 15 classic French noir films over 5 days. Not to be missed, HOSSEIN x 5, a five-film tribute to actor/director Robert Hossein on Saturday, November 5.
View FRENCH HAD A NAME FOR IT 3 program
"Dark and handsome, Robert Hossein was a leading man with a slightly sad countenance and soft eyes, like a faintly more exotic Liam Neeson.... His value in French cinema is sure to be reappraised in decades to come. Certainly after Saturday he'll have a lot of new San Francisco fans, most of whom probably had no idea who he was beforehand. ...One marathon day... will feature four more of Hossein's directing efforts from the early 1960s, plus one of the many films around that time (1959's white-slavery thriller The Road to Shame) he merely starred in....
The "it" they had a name for is, of course, film noir, whose Hollywood-heyday titles of the 1940s and 1950s weren't given any particular handle at home (beyond a generic a like "thriller"). It was up to the French to eventually recognize the peculiar style, themes and occasional brilliance of movies whose home-turf critics, audiences, and even makers tended to think of as routine commercial product. ...[T]he French industry made plenty of its own post-WW2 crime melodramas, many owing a certain debt to Hollywood yet strongly stamped by a Gallic sensibility. Malcolm's series...includes a great many films that were little-seen outside Europe at the time, and which have yet to experience a major critical re-evaluation."
—Dennis Harvey, 48 Hills
"Unfortunately, by blowing up French cinema, Godard, Truffaut and the gang left quite a bit of wreckage behind. For the third straight year, programmer and film historian Don Malcolm is picking through the collateral damage to find truly great and forgotten movies and artists in his 15-film series at the Roxie Theater.....
"Robert Hossein, like his New Wave enemies, was also a filmmaker who flaunted narrative convention....Les scélérats exemplifies what this series is all about: An emotionally mature exploration of our deepest, darkest desires and fears."
—G. Allen Johnson, SF Gate
MAY 13-16, 2016 ▪
ROXIE THEATRE

▪ MIDCENTURY

ECLECTIC
RARE & UNFORGETTABLE ARTHOUSE FILMS FROM AROUND THE WORLD 1944-1965

View the program for MIDCENTURY ECLECTIC.
"MIDCENTURY ECLECTIC! has to be the most adventurously programmed (by Don Malcolm) repertory film series of the year, centerpieced by a screening of THE BAD SEED with star Patty McCormack in person at 6 p.m., Sunday, May 15.... Really, there's not a weak link in this intriguing journey into the fractured arthouse of the mid-20th century."
—G. Allen Johnson, SF Gate
"A total of twelve wildly original films will be shown, and not a sequel or a remake among them. 'When we did it there was nothing like it at the time,' McCormack said of The Bad Seed. 'It couldn't be redone today because we used the culture of that time.' McCormack's words could easily apply to the entire festival."
—David-Elijah Nahmod, SF Weekly
NOV 6-9, 2015 ▪
ROXIE THEATRE

▪

THE FRENCH HAD A NAME FOR IT

2
LOVERS & OTHER STRANGERS
View THE FRENCH HAD A NAME FOR IT 2 program.
"It's 12 films in four days, and there's not a weak selection in the whole lineup...[The films are] sophisticated in the ways that they portray the dynamics of crime, marriage and adultery.... Bizarre in a brand new way."
—Mick LaSalle, SF Chronicle/SF Gate, Racy, Daring Lineup for Roxie's French Film Noir Festival

"While many American films of the prime noir era focused principally on male-dominated criminal milieux and activities, the dozen features in "The French Had a Name For It 2" find that romance—or what passes for it—between the sexes can provide quite enough dark intrigue all by itself, with or without the genre's usual elements of guns, gangsters and cops."
—Dennis Harvey, EatDrinkFilms.com, L'amour Fou: Betrayal and Suspicion in French Film Noir
San Francisco's breakout festival of 2014--THE FRENCH HAD A NAME FOR IT, which revived twelve French noirs from 1946-1963 not seen in American theatres in at least half a century, took everyone by surprise and created a wave of interest in foreign noir that has galvanized repertory film programming across the United States ever since. Familiar faces—Brigitte Bardot, Jean Gabin, Simone Signoret, Lino Ventura—in unfamiliar but compelling (and often risqué) films proved to be beyond intoxicating last November. Now, Don Malcolm—with considerable moral support from Lavine—is at it again, bringing twelve more of these astonishing discoveries to the Roxie screen beginning Friday, November 6.
"Round Two will bring to our attention some amazing talents—Daniel Gélin, Ginette Leclerc, Françoise Arnoul, Viviane Romance—that we simply don't know over here. I predict that they will rock people's worlds!"
—Elliot Lavine

Timeline of Pivotal French Film Noir
JUN 19-22, 2015 ▪
AERO THEATRE

▪ THE FRENCH HAD A NAME FOR IT
RARE FRENCH FILM NOIR FEATURING FAMILIAR FACES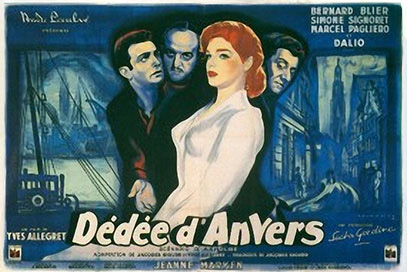 "Subtitled "Rare French Film Noir, 1948-1963," the much-anticipated series THE FRENCH HAD A NAME FOR IT explores the notion that the French not only gave a name to the dark-end-of-the-street melodramas but that they also made some of the best, most involving examples of the genre. Playing Friday night through Monday night at the American Cinematheque's Aero Theatre are eight rarely seen films with major stars like Brigitte Bardot, Jean Gabin and Simone Signoret in ways we've not seen them before."
—Kenneth Turan, Los Angeles Times, Critic's Pick
MAR 19-23, 2014 ▪ ROXIE THEATER, SAN FRANCISCO
A RARE NOIR IS GOOD TO FIND /
INTERNATIONAL FILM NOIR 1949-1974
View A RARE NOIR IS GOOD TO FIND program.
Meredith Brody, INDIEWIRE
"I can give no higher praise to A RARE NOIR IS GOOD TO FIND's programming...I intend to go to EVERY DOUBLE BILL, including the films I've already seen."
NOV 14-17, 2014
▪

ROXIE THEATER, SAN FRANCISCO
THE FRENCH HAD A NAME FOR IT /
FRENCH FILM NOIR 1946-1964

View THE FRENCH HAD A NAME FOR IT 2014 program.

THE FRENCH HAD A NAME FOR IT Press Release
French Film Noir Reurns: Roxie Theater, San Francisco Alliance Française
Which Movies To See This Weekend, Dec. 12, SF Gate, Mick LaSalle
Risqué French Film Noirs Are a Revelation, SF Gate, Mick LaSalle
Crème de la Crème -- Film Noir Series Brings Back Festival Favorites, SF Examiner, Bonnie Steiger
Crème de la Crème Of "The French Had A Name For It", Art Film Bay Area
The French Had a Name for It: A Gallic Twist on an American Genre, Eat Drink Films, Pam Grady
Post-war French Affairs, Bay Area Reporter, Erin Blackwell
Roxie Theater Gets Dark and Dirty with Film Noir Series, The Daily Californian, Jeremy Siegel interviews Elliot Lavine and Don Malcolm
The French Had A Name For It -- Noir Festival at the Roxie Theater, SF Examiner, Bonnie Steiger
Noir Repatriated, SF Weekly, Jonathan Kiefer
The French Had a Name for It, The Evening Class, Michael Guillen
Fi ve To Watch: French Kisses and Kicks to the Head, KQED Arts, Michael Fox
JUL 11-13, 2014 ▪ ROXIE THEATER, SAN FRANCISCO
A SPECIAL WEEKEND WITH DON MURRAY

View the Special Weekend with Don Murray program.

Files are available in Acrobat PDF format.
SPECIAL WEEKEND WITH DON MURRAY Press Release
"Repudiated on its 1961 release by the tough-talking clergyman who inspired it, The Hoodlum Priest remains as obsure and intriguing as ever."
Dennis Brown onThe Hoodlum Priest
"Advise and Consent , both in its astonishingly complex and lucid total organisation and in the concrete realisation of its smallest details, reveals the mind of a master."
Robin Wood essay on Advise and Consent
Out of the Trunk and Into Production, Don Murray on Call Me by My Rightful Name: PART 1, PART 2
Don Murray, The Unsung Hero—The Evening Class Interview With Don Malcolm - Michael Guillen, The Evening Class
A Not-to-Be-Missed Film Retrospective: A Tribute to The Amazing Career of Don Murray - Gar Smith, The Berkeley Daily Planet
The Many Lives of Don Murray - David Lamble, Bay Area Reporter
A Very Special Weekend with Don Murray - Bonnie Steiger, SF Examiner
Roxie Offers Fresh Look at Forgotten Star Don Murray's Films - G. Allen Johnson, SF Gate
A Special Weekend with Don Murray - Discovering Don - Jonathan Kiefer, SF Weekly
A Singular Career: The Roxie Pays Tribute to Actor Don Murray - Cinezine Kane
Unsung Hero: Don Murray - Tim Sika, EatDrinkFilms.com