FRIDAY, NOV 3, 2017CAUTION: LEMMY!
THIS MAN IS DANGEROUS / CET HOMME EST DANGEREUX 6:00

Born in Los Angeles to Russian expatriates, Eddie Constantine wanted to be a singer. A trip to Paris after WWII brought him into the orbit of Edith Piaf and her friends in the French film industry. Almost before he knew it, the man with the dazzling smile and the lived-in face became a French icon by channeling Bogart's tough-guy routines. Here, in his second outing as FBI agent Lemmy Caution, he goes undercover, impersonating an escaped ex-con to infiltrate a kidnapping gang.
Director Jean Sacha, who edited Orson Welles' Othello, channels the great expatriate director's visual strategies, giving Cet homme est dangereux a kind of kinky gravitas that future editions of the Lemmy Caution series failed to recapture. With Eddie Constantine, Colette Deréal, Grégoire Aslan, Claude Borelli, Vera Norman.
(1953, dir. Jean Sacha, 92 min.) Screenplay: Jacques Berland (adaptation) and Marcel Duhamel (dialogue) from the novel by Peter Cheyney. Cinematography: Marcel Weiss. Film editing: Paulette Rovert. Music: Jacques Marion
LUCKY JO 7:45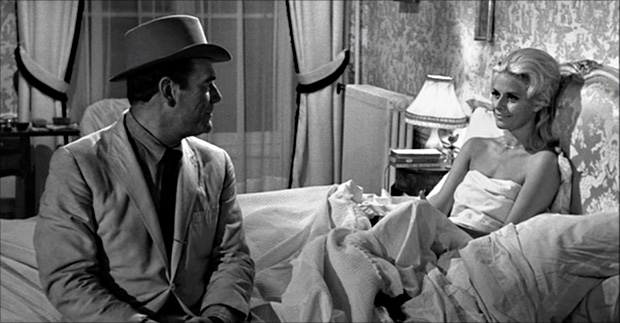 Michel Deville, apprentice of Henri Decoin, hit his stride as a director when he teamed up with Nina Companeez, whose father Jacques was one of the legendary screenwriters in French noir (Les bas-fonds, Pièges, La foire aux chimères, Les maudits, Casque d'or). More fluent in comedy than her father, Companeez helped guide Deville to a unique combination of humor and pathos that they infused into the crime film. (She also served as his film editor, which prepared her for a future career as a director.)
Taking the well-worn Eddie Constantine and turning his persona upside down, and surrounding him with first-rate acting talent (Pierre and Claude Brasseur, Georges Wilson, Françoise Arnoul), Deville conjures up a frantic sub-world of petty thieves and perilous schemes, where the quiet calculation of the next score is upended by the escalating superstition surrounding Jo (Constantine), who continues to attempt a life of crime despite being shunned by his former associates as the catastrophic opposite of a "good-luck charm." Featuring a sharply poignant score from the great Georges Delerue. With Eddie Constantine, Pierre Brasseur, Claude Brasseur, Georges Wilson, Françoise Arnoul, Christiane Minazzoli, Anouk Ferjac.
(1964, dir Michel Deville, 90 min.) Screenplay: Nina Companeez and Michel Deville from the novel "Main pleine" by Pierre Lesou. Cinematography: Claude Lecomte. Film editing: Nina Companeez. Music: Georges Delerue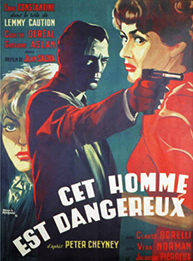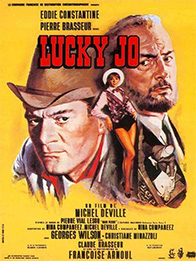 >