Happy holidays, and special thanks to those of you who so kindly joined us for THE FRENCH HAD A NAME FOR IT 3 at the Roxie from November 3-7. A great time was had by all, with fifteen superb and warmly received films pushing us further into the fascinating "lost continent" of classic French film noir.
Prizes and surprises abounded over the five days, all building to a wild final night where the audience followed curator Don Malcolm's advice and fell in love with the superlative performance of Micheline Presle in the festival's bittersweet closer Les jeux sont faits (The Chips Are Down). They were also mesmerized by Jean Gabin in Le jour se lève (Daybreak); Michel Simon in Non coupable (Not Guilty); Louis Jouvet in Un revenant (A Lover's Return); the two Simones—Signoret and Renant—in Manèges (The Wanton) and Voyage sans espoir (Journey without Hope) respectively; and the inventively personal "noir universe" of Robert Hossein, featured in five films that kept the audience buzzing for ten hours on Saturday the 5th.
Mailing list members can expect to hear from us after the first of the year with plans for 2017 festivals, including but by no means limited to THE FRENCH HAD A NAME FOR IT 4 from November 3-6, 2017. It's never too early to save the dates—and it's never too soon to join our mailing list!

Again, heartfelt thanks to the Roxie and the stalwart Bay Area cinephiles for their incredible support—we'll be seeing you again soon!
THU, NOV 3
Origins: 1939

(1939) 7:30

LE DERNIER TOURNANT
THE LAST TURN
(1939) 9:20
FRI, NOV 4

Rehabilitations 1: Christian-Jaque

VOYAGE SANS ESPOIR
JOURNEY WITHOUT HOPE
(1943) 7:30

(1946) 9:20
SAT MATINÉE, NOV 5
HOSSEIN X 5
Two with Marie-France Pisier

LE MORT D'UN TUEUR
DEATH OF A KILLER
(1964) 1:30

LE VAMPIRE DE DÜSSELDORF
THE SECRET KILLER
(1965) 3:15
SAT EVENING, NOV 5

The Many (Deadpan) Moods of Robert Hossein…

DES FEMMES DISPARAISSENT
THE ROAD TO SHAME
(1959) 6:00

(1960) 7:45

LE JEU DE LA VÉRITÉ
THE GAME OF TRUTH
(1961) 9:30
SUN MATINÉE, NOV 6

1960s "Art-Noir" and the "Lost Boys" of the Nouvelle Vague

LA DÉNONCIATION
THE DENUNCIATION
(1962) 1:30

(1962) 3:30
SUN EVENING, NOV 6

Simone Signoret et un Monstre Sacré

(1947) 7:00

(1950) 9:00
MON, NOV 7

Rehabilitations 2: Jean Delannoy, "New Wave Whipping Boy"

MACAO, L'ENFER DE JEU
GAMBLING HELL
(1942) 7:15

LES JEUX SONT FAITS
THE CHIPS ARE DOWN
(1947) 9:00
The Roxie Theater at 3117 16th St. can be reached at 415.863.1087.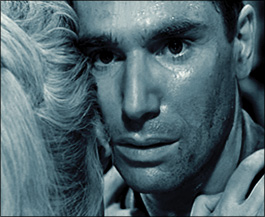 SATURDAY, NOV 5 - HOSSEIN x 5
Perhaps the most unique auteur in the history of French noir, Hossein's five films in FRENCH 3 range from sweaty B-noir (Les femmes disparaissent/The Road to Shame) to studies in upper-class decadence (Les scélérats/The Wretches, Le jeu de la vérité/The Game of Truth) to heart-rending explorations of a serial killer (Le vampire de Düsseldorf/The Secret Killer). As you will discover, no two Hossein noirs are alike!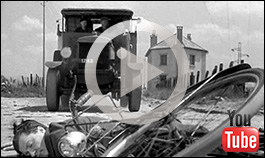 ↑ View the FRENCH 3 trailers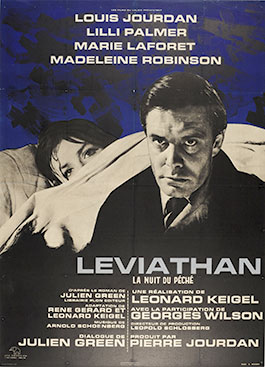 Léviathan/Dark Journey - Sunday, Nov 6, at 3:30.
"Malcolm's series... includes a great many films that were little-seen outside Europe at the time, and which have yet to experience a major critical re-evaluation. Some may well be experiencing their Bay Area debuts in the Roxie programs, 60 or 70 years late in the Roxie. As [Elliot] Lavine's highly popular retrospectives played a significant role in sparking a classic American noir revival around the nation and beyond, there's good reason to hope Malcolm's might eventually have wider repercussions for mid-century European genre films, perhaps leading to audience demand for new restorations of long-neglected or unavailable titles."
—Dennis Harvey, 48 Hills VIEW PRESS EXCERPTS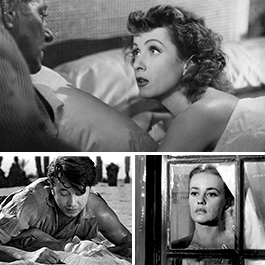 AERO ♥ FRENCH NOIR!!
THE FRENCH HAD A NAME FOR IT
AT THE CINEMATHEQUE
A wild four-day weekend of classic French noir played out October 6-9 at the American Cinematheque's Aero Theatre in Santa Monica.
Attendees thrilled to the star power of Jean Gabin, Simone Signoret, Alain Delon, Jeanne Moreau, Danielle Darrieux and Jane Fonda, as classics from the 30s to the 60s opened their eyes to a "lost continent" of French film noir.
Especially resonant with the crowds at the Aero were raritiies such as Yves Allégret's The Cheat/Manèges, Edouard Molinaro's Back to the Wall/Le dos au mur, and Henri Decoin's The Truth about Our Marriage/La verité sur Bébé Donge.
Our thanks to those many adventurous enthusiasts who joined us and signed up for our mailing list. We will stay in touch—see you next year!
MIDCENTURY PRODUCTIONS
A "boutique" programming venture designing "mini film festivals," MID-CENTURY PRODUCTIONS features films from cinema's most explosive three decades—the 1940s, 1950s, and 1960s. We program original festivals and work with organizations and individuals to craft singular programming that illuminates the hidden corners of these three decades.
LOOKING FOR OUR MAILING LIST?
If you're not yet on our mailing list, why not?
Members receive special discounts and are eligible for our free giveaways, special prizes, and contests. And we keep you informed about what we're up to in our newsletter. Best of all—it's free! SIGN UP HERE