COMING IN APRIL!
THE OTHER SIDE OF THE LOST CONTINENT

Reclaiming the Glories of France's Cinéma de papa
Midcentury Productions' Don Malcolm and comrade Phoebe Green plant the seeds for another incredible journey into classic French film as they present special evenings at the Little Roxie beginning April 4 with a series featuring rare comedies and love stories from the unjustly maligned 1930s-50s era. "The so-called cinéma de papa was much more 'hip' than its current reputation," Don notes. Fans of THE FRENCH HAD A NAME FOR IT and adventurous Bay Area cinephiles are encouraged to attend as the series starts with a series of "soft openings" in 2019.
Thursday, April 4 at 6:30 PM and
Saturday, April 6 at 4:30 PM
THE CURTAIN RISES/ENTRÉE DES ARTISTES
The one and only Louis Jouvet is the focal point in THE CURTAIN RISES / ENTRÉE DES ARTISTES (1938, 99mins), a fascinating slice of backstage romance and intrigue that will keep your eyes glued to the screen.
Let's set the scene: "Isabelle (Janine Darcey), Cécilia (Odette Joyeux) and François (Claude Dauphin) are drama students at the Conservatoire d'Art Dramatique under the tutelage of Professeur Lambertin (Louis Jouvet). In the midst of their arduous studies, Cécilia falls in love with François—but he's in love with Isabelle instead. In her sorrow, Cécilia concocts a desperate plan to get back at François."
Screenwriter Henri Jeanson, soon to become a legend in French cinema, shadowed Jouvet and his Conservatoire class, developing a story that combined the tension of theatrical performance with escalating backstage intrigue. Putting it all together was director Marc Allégret, longtime companion of André Gide and a formidable presence in his own right, as instrumental in shaping young film stars as Jouvet was in grooming stage actors. Add future director André Cayatte blending in a mystery story angle to the film's denouement (featuring the always welcome Marcel Dalio) and you've got a fascinating introduction to the lost glories of the cinéma du papa.
→ TICKETS NOW AVAILABLE FOR BOTH SCREENINGS at the Roxie site, or can be purchased at the Roxie Box Office. Limited seating available.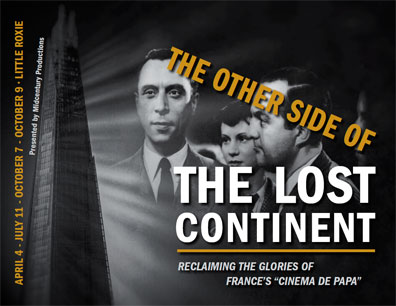 Other films in this series will screen in July (JULY 14/14 JUILLET, a sparkling 30s comedy directed by the great René Clair) and October (two intricate "piano romances," MONELLE/LES AMOREUX SONT SEULS AU MONDE, also with Louis Jouvet; and the compelling "dueling sisters" drama SHADOW AND LIGHT/OMBRE ET LUMIÈRE, featuring Simone Signoret and Maria Casares).

San Francisco's Roxie Theatre is located at 3117 16th St. between Valencia & Guerrero, one block from 16th & Mission BART
BOX OFFICE: 415.863.1087
COMING IN MAY!
THE FRENCH HAD A NAME FOR IT 5½

Quadruple Exposure: 4 Decades of French Noir
Renegade programmer and MCP head honcho Don Malcolm runs for the end zone and an incredible total of 101 impossibly rare French noirs screened at the San Francisco's Roxie Theatre since November 2014 with this amazing, eclectic, galvanizing spring edition of the most game-changing film festival ever. THE FRENCH HAD A NAME FOR IT 5½ will screen May 10-13, 2019.
You've heard Don rhapsodize about the "first true film noir"—NIGHT AT THE CROSSROADS/LA NUIT DU CARREFOUR, directed in 1932 by the great Jean Renoir—now SEE IT on the big screen! Don says it'll be like seeing a fascinating (but very mysterious) old friend...

13 films from all four decades of classic French noir AND (by popular demand) a special screening of an incredible Henri-Georges Clouzot rarity, the incendiary "Retour de Jean," the centerpiece of the intriguing 1949 anthology film RETURN TO LIFE/RETOUR À LA VIE, all about the difficulties faced by the French people in readjusting to life after World War II. "Retour de Jean" features the one and only Louis Jouvet as an invalid in a nursing home who discovers an escaped German prisoner in his bedroom—as you've come to expect from Clouzot, it's very strong stuff!
And, of course, there will be appearances from your old favorites—Jean Gabin, Jeanne Moreau, Simone Signoret—all woven into an incredible tapestry of French film noir. There is even room for Fernandel, whom Don has taken to humorously calling the "master of noir." As he says, seeing is believing! And don't miss the great Harry Baur (Don's favorite) in his amazing turn as Commissioner Maigret in the second "Georges Simenon noir," THE HEAD OF A MAN/LA TETE D'UN HOMME, directed by none other than Julien Duvivier!
The full schedule for THE FRENCH HAD A NAME FOR IT 5½ will go live on this site on Friday, March 29. Mailing list subscribers will receive a special advance ticket offer including a bargain rate for festival passes at that time. If you haven't done so, join the mailing list to receive updates.
Relive the Back pages of THE FRENCH HAD A NAME FOR IT
Interested to know what rare films from the "lost continent" of French film noir have been screened at THE FRENCH HAD A NAME FOR IT festivals at the Roxie Theatre? Here are some handy links that will take you to the program information: FRENCH 5 (Nov 15-20, 2018); FRENCH 4 (Nov 3-6, 2017); FRENCH 3 (Nov 3-7, 2016); FRENCH 2 (Nov 6-9, 2015); FRENCH 1 (Nov 14-17, 2014). FRENCH 6 (all 1960s French noir) is scheduled for November 14-18, 2019.