MONDAY, NOV 6 HOMMAGE TO JEANNE MOREAU
THE STRANGE MISTER STEVE / L'ÉTRANGE MONSIEUR STEVE 7:15

Milquetoast bank clerk Georges (Philippe Lemaire) becomes friendly with a smooth-talking gangster (Armand Mestral) and soon discovers the friendship—and a one-night dalliance with the gangster's mistress (Jeanne Moreau)—is a trap to force him into assisting with a bank robbery. But there is another twist: the gangster's gal actually falls in love with him!
Frédéric Dard, sometimes referred to as the Raymond Chandler of France, demonstrates his deftness with irony as he adapts Marcel Pretre's novel with an eye toward sharp characterization. Moreau, nearing the end of her "noir apprenticeship," is appropriately feisty and inscrutable throughout. With Jeanne Moreau, Philippe Lemaire, Armand Mestral, Lino Ventura, Anouk Fejak, Jacques Varennes, Paulette Simonin, Robert Rollis.
(1957, dir. Raymond Bailly, 90 min.) Screenplay: Frédéric Dard and Raymond Bailly from a novel by Marcel G. Pretre. Cinematography: Jacques Lemare. Film editing: Daniel Devaivre. Music: Philippe-Gérard
MADEMOISELLE 9:00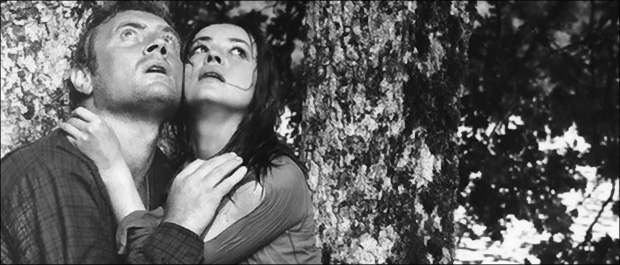 The mercurial, mesmerizing, contradictory Marguerite Duras hovers over Mademoiselle like a shroud; her adaptation of Jean Genet's story about the unleashing of primal desire in a remote French village is the final nail in the coffin of French film noir and its venerable sub-genre, the "provincial Gothic."
Alternating between sylvan beauty and increasingly harrowing human interaction, and featuring a poignant performance by then-teenage actor Keith Skinner, Mademoiselle is a showcase for Jeanne Moreau's skill at minimalist extremity, embodying the dark side of feminine power as she unleashes chaos and tragedy amongst her unsuspecting neighbors. With Jeanne Moreau, Ettore Manni, Keith Skinner, Umberto Orsini, Georges Aubert, Jane Beretta, Antoine Marin, Jacques Monod.
(1966, dir. Tony Richardson, 103 min.) Screenplay: Marguerite Duras from a story by Jean Genet. Cinematography: David Watkin. Film editing: Sophie Coussein. Music: Antoine Duhamel