MONDAY, NOV 18, 2019PTSD I LOVE YOU
THE WAR IS OVER / LA GUERRE EST FINIE 7:00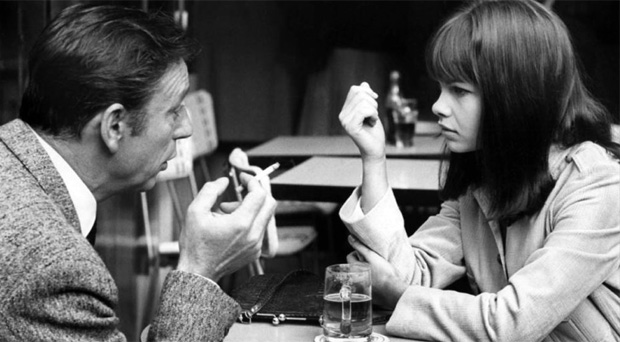 Closing night centers around French noir's engagement with politics and war as it races to its abrupt end in 1966, when black and white was banished from cinema. The two films deal with different aspects of war as it shifted its focus to include revolutionary insurgency, and the psychological effects on those who find themselves unavoidable immersed in the fighting, no matter what form such actions may take. In Resnais' La guerre est finie, "war" is the endless, Sisyphean struggle of the revolutionary to disrupt corrupt, repressive regimes—and the toll that tiny slivers of progress take upon those involved in such an effort. Yves Montand is superbly world-weary as a man at a crossroads, emblemizing the precarious fate of nuance both in politics and in film noir.
(1966) 117min. Directed by Alain Resnais. Scenario by Jorge Semprún. Photographed by Sacha Vierny. Edited by Eric Pluet & Ziva Postec. Music by Giovanni Fusco. With Yves Montand, Ingrid Thulin, Genevieve Bujold, Michel Piccoli, Anouk Ferjac.
OBJECTIVE: 500 MILLIONS / OBJECTIF: 500 MILLIONS 9:15
On the heels of his shattering depiction of the French war in Indochina, 317 section (1965), Pierre Schoendoerffer focused on the haunted afterlife of war veterans via the lens of a heist film. Bruno Cremer is a man with many demons—and with a strange opportunity to cash in on an airplane hijack/robbery scheme brought to him by the beautiful, mysterious Yo (Marisa Mell). He soon finds, though, that the man she is fronting for (Jean-Claude Rolland) is the one who turned him in for crimes committed in the Algerian war. His attraction to Yo and inchoate dreams of escape draw him into the scheme, but his thirst for revenge threatens its success—while memories of the war continue to assault him. Objectif: 500 millions is a prescient look at the torn fabric of a world that fifty years later would be suffering from its own cultural PTSD.
(1966) 91min. Directed by Pierre Schoendoerffer. Scenario and dialogue by Pierre Schoendoerffer & Jorge Semprún. Photographed by Alain Levent. Edited by Armand Psenny. Music by Pierre Jansen. With Bruno Cremer, Marisa Mell, Jean-Claude Rolland, Etienne Bierry, Pierre Fromont, Hong-Mai Thomas.