SUNDAY MATINÉE, NOV 17, 2019LOVE'S ACRID AFTERTASTE
THÉRÈSE / THÉRÈSE DESQUEYROUX 1:00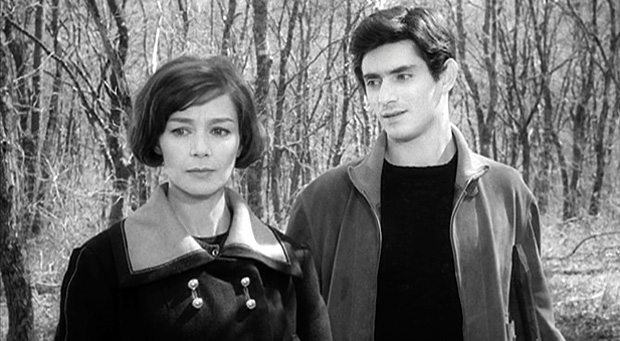 "A Madame Bovary who bites back," is how Georges Franju described François Mauriac's mysterious heroine, and Emmanuelle Riva is perfectly cast as a provincial woman whose memories depict the lingering curse of the feminine in bourgeois society. Franju uses the Landes pine forests where these memories play out as looming agents of entrapment as Thérèse finds her path to individuality thwarted at every turn. A singular film marrying noir and art house as only Franju can envision it: Thérèse Desqueyrou is a haunting tale in search of a feminism that need not speak its name.
(1962) 109min. Directed by Georges Franju. Dialogue by François Mauriac. Adaptation by François Mauriac, Claude Mauriac & Georges Fraju from the novel by François Mauriac. Photographed by Christian Matras & Raymond Heil. Edited by Gilbert Natot. Music by Maurice Jarre. With Emmanuelle Riva, Philippe Noiret, Edith Scob, Sami Frey.
WEB OF FEAR / CONSTANCE AUX ENFERS 3:15
After his triumph with 1949's Hans le marin, director François Villiers spent much of the 50s making documentaries. But here we see him in full 60s mode in this slick, frenetic thriller that pits the inestimable Michele Morgan against two attractive grifters (Simon Andreu, Dany Saval) running what might best be described as a "love con" on her. Morgan's renowned facial dexterity gets a relentless workout as she pierces the veil of deception with the participation of various colorful characters, ranging from a foppish blackmailer (Claude Rich) to a giddy detective (Uruguayan actor Carlos Casaravilla, who steals the film in two minutes flat). French 60s noir at its most delirious!
(1964) 88min. Directed by François Villiers. Scenario and dialogue by Jacques Sigurd & Jean-Pierre Ferrière from the novel by Jean-Pierre Ferrière. Photographed by Manuel Berenguer. Edited by Teresa Alcocer & Christian Gaudin. Music by Claude Bolling. With Michèle Morgan, Simon Andreu, Dany Saval, Maria Pacôme, Claude Rich, Georges Rigaud, Carlos Casaravilla.