SATURDAY EVENING, NOV 7MONTAND/SIGNORET
LES PORTES DE LA NUIT / GATES OF THE NIGHT 6:00, 9:45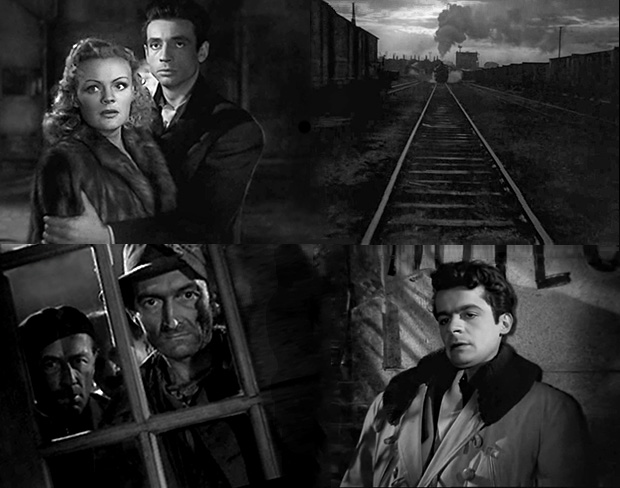 The troubled pre-production history of LES PORTES DE LA NUIT (both Jean Gabin and Marlene Dietrich jumped ship…) doomed it to an unwarranted disgrace in the wake of Marcel Carné's 1945 masterpiece, LES ENFANTS DU PARADIS. Its calamitous reception ensured the breakup of Carné and his peerless writing partner Jacques Prévert.
Seventy years later, however, we can see it as a unique amalgam of poetic realism, mythic fantasy, and film noir—replete with symbolic, dream-like characters (the striking Jean Vilar as a figure of "Fate") all flailing through a maelstrom of dangerous nocturnal events. The actor replacing Gabin (Yves Montand) and the ingénue standing in for Dietrich (Nathalie Nattier) take the film in a wistful direction that only adds to its resonance.
Pierre Brasseur, Yves Montand, Serge Reggiani, Jean Vilar, Nathalie Nattier. Dir. Marcel Carné. (1946, 107 min.)
IMPASSE DES DEUX ANGES / IMPASSE OF TWO ANGELS 8:00

Several years before they would be memorably entwined in a devilish pas-de-deux in Clouzot's LES DIABOLIQUES (1954), Simone Signoret and Paul Meurisse played a pair of wistful but very adult lovers in IMPASSE DES DEUX ANGES, the final film in Maurice (father of Jacques) Tourneur's illustrious career.
Signoret is an actress engaged to a wealthy industrialist (Marcel Herrand) and seems content with her lot, but Fate (or some other mysterious force) brings Meurisse back into her life, seven years since their intense love affair ended. What he fails to tell her is that he is a safecracker for a gang of jewel thieves; worse, he's on the run from them with the stolen loot!
Superb chemistry between the stars, their astringent amatory exchanges, the slowly tightening noose, and director Tourneur's sure hand make for a seamless combination.
Paul Meurisse, Simone Signoret, Marcel Herrand, Danièle Delorme. (Dir. Maurice Tourneur, 1948, 85 min.)