FRIDAY, NOV 14

(1949) 6:00, 10:15

(1960) 8:00
SATURDAY MATINEE, NOV 15

(1947) 1:30

UNE MANCHE ET LA BELLE
A KISS FOR A KILLER
(1957) 3:30
SATURDAY NIGHT, NOV 15

TOI LE VENIN
BLONDE IN A WHITE CAR
(1958) 6:15, 9:45

UN TEMOIN DANS LA VILLE
WITNESS IN THE CITY
(1959) 8:00
SUNDAY MATINEE, NOV 16

(1948) 1:30

EN CAS DE MALHEUR
LOVE IS MY PROFESSION
(1958) 3:15
SUNDAY NIGHT, NOV 16

(1963) 5:30, 9:30

VOICI LE TEMPS DES ASSASSINS
DEADLIER THAN THE MALE
(1956) 7:30
MONDAY, NOV 17
LA P... RESPECTUEUSE
THE RESPECTFUL PROSTITUTE
(1952) 6:00, 9:45

J'IRAI CRACHER SUR VOS TOMBES
I SPIT ON YOUR GRAVES
(1959) 7:45
*Note that all films will be shown with English subtitles.
SATURDAY MATINEE, NOVEMBER 15, 2014SALUTE TO HENRI VIDAL
LES MAUDITS / THE DAMNED 1:30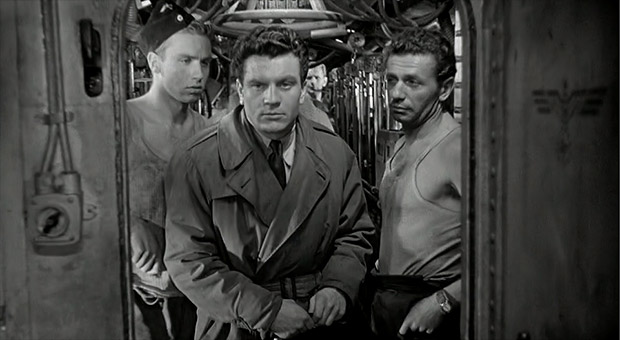 Henri Vidal (1919-1959) was too handsome for his own good—his early promise as a successor for Jean Gabin was sidetracked by his success in early sword-and-sandal-epics such as FABIOLA (1949). Prior to that, however, he is at his best as the kidnapped doctor in René Clément's exceptionally tense LES MAUDITS, where the strangest of all possible bedfellows are trapped together in a submarine commandeered by a group of Nazis attempting to escape in the last days of WWII. Clément creates a series of interlocked, claustrophobic cat-and-mouse games that will keep you on the edge of your seat. Photographed by the great Henri Alekan (BEAUTY AND THE BEAST, SUCH A PRETTY LITTLE BEACH). With Florence Marly, Marcel Dalio, Michel Auclair, Anne Campion. Dir. René Clément (1947, 105 min.).
UNE MANCHE ET LA BELLE / A KISS FOR A KILLER 3:30
Director Verneuil, a Turkish expatriate best known for his helming of THE SICILIAN CLAN (1969), is in top form here adapting a James Hadley Chase source novel (The Sucker Punch) into a well-modulated Gallic amalgam of SUNSET BOULEVARD and THE POSTMAN ALWAYS RINGS TWICE. Vidal is the trophy husband of a rich dowager (Isa Miranda) who is slowly seduced into murdering her by his comely, cunning secretary (well-played by Bardot lookalike Mylène Demongeot). With crisp lenswork from esteemed French cinematographer Christian Matras (GRAND ILLUSION, LE RONDE). Dir. Henri Verneuil (1957, 98 min.)