FRIDAY, NOV 14

(1949) 6:00, 10:15

(1960) 8:00
SATURDAY MATINEE, NOV 15

(1947) 1:30

UNE MANCHE ET LA BELLE
A KISS FOR A KILLER
(1957) 3:30
SATURDAY NIGHT, NOV 15

TOI LE VENIN
BLONDE IN A WHITE CAR
(1958) 6:15, 9:45

UN TEMOIN DANS LA VILLE
WITNESS IN THE CITY
(1959) 8:00
SUNDAY MATINEE, NOV 16

(1948) 1:30

EN CAS DE MALHEUR
LOVE IS MY PROFESSION
(1958) 3:15
SUNDAY NIGHT, NOV 16

(1963) 5:30, 9:30

VOICI LE TEMPS DES ASSASSINS
DEADLIER THAN THE MALE
(1956) 7:30
MONDAY, NOV 17
LA P... RESPECTUEUSE
THE RESPECTFUL PROSTITUTE
(1952) 6:00, 9:45

J'IRAI CRACHER SUR VOS TOMBES
I SPIT ON YOUR GRAVES
(1959) 7:45
*Note that all films will be shown with English subtitles.
SUNDAY MATINEE, NOVEMBER 16THE HAZARDS OF STREETWALKING
DÉDÉE D'ANVERS 1:30
Bursting through the echoes of "poetic realism" contained within its narrative, DÉDÉE D'ANVERS showcases the emergence of Simone Signoret, a hooker with a hankering for a better life. The original French femme fatale, Signoret is both luminous and complex, presaging a series of follow-up performances in similarly-themed films over the next half-decade. With Bernard Blier, Marcello Pagliero, Jane Marken and Marcel Dalio. Evocatively photographed by Jean Bourgoin (BLACK ORPHEUS, MR. ARKADIN). Dir. Yves Allégret (1948, 86 min.).
EN CAS DE MALHEUR / LOVE IS MY PROFESSION 3:15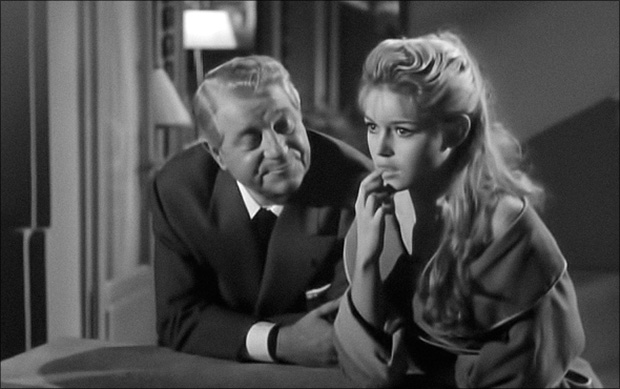 Gabin! Bardot! Oh-la-la (or, should we say, OMG)!! The trouble starts when Gabin, a distinguished lawyer, defends Bardot, a prostitute who has committed a robbery. He gets her off, and finds (to everyone's dismay, including his wife) that he gets off on her; she becomes his mistress. Alas, Gabin's efforts to "upscale" her are frought with peril, for she has another lover, a handsome young student (Franco Interlenghi), who slowly builds into a murderous rage. With Edwige Feuillère. Based on a novel by Georges Simenon. Dir. Claude Autant-Lara (1958, 105 min.)