FRIDAY, MAY 13CHILDREN IN PERIL
LOS OLVIDADOS / THE FORGOTTEN ONES 7:00
(Also known as THE YOUNG AND THE DAMNED.) Buñuel, "godfather" of art cinema with his outrageous pulp surrealism at the dawn of the sound age, took a decade-long hiatus from filmmaking in the 30s and 40s. After two quirky comedies upon relocating to Mexico, he astonished the world with the incendiary LOS OLVIDADOS, a searing blend of operatic melodrama and blistering neo-realism (with a big assist from legendary cinematographer Gabriel Figueroa). The gut-wrenching rivalry between the conflicted Pedro (Alfonso Mejia) and the charismatic sociopath Jaibo (Roberto Rojo) obliterates everything in its path as it careens toward unspeakable tragedy.
Dir. Luis Bunuel (1950, 85 min.)
JEUX INTERDITS / FORBIDDEN GAMES 9:00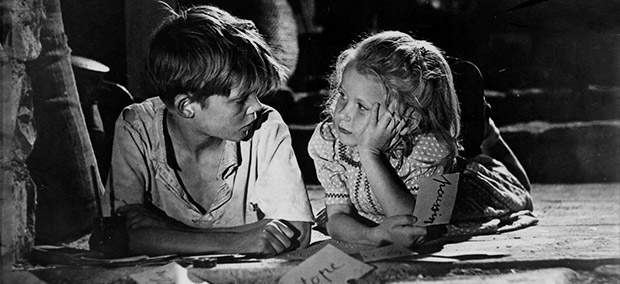 After several exemplary noirs (LES MAUDITS, LA MURA DI MALAPAGA among others) in the years immediately following World War II, René Clément changed direction with this moving tale of a young girl (the incredible Brigitte Fossey) who is taken in by French peasants after her family—including her beloved dog—is killed in a Nazi raid. A special relationship develops between her and the sensitive young peasant boy (Georges Poujouly) who takes a protective interest in her—all while the Nazis are still lurking in the background. Brilliantly shot by Robert Juillard (GERMANY YEAR ZERO).
Dir. René Clément (1952, 86min.)