SATURDAY EVENING NOV 5, 2016 HOSSEIN X 5: THE MANY MOODS OF ROBERT HOSSEIN
THE ROAD TO SHAME / DES FEMMES DISPARAISSENT 6:00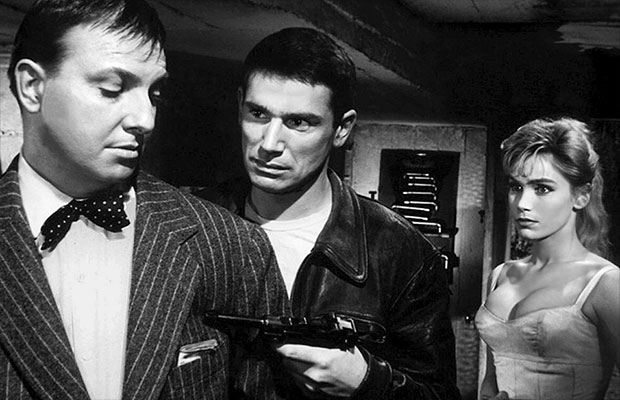 Edouard Molinaro pays homage to all of the sweaty American B-noirs he (and you) had come to know and love, and adds more than a soupçon of sexploitation to the mix, relying on Robert Hossein to cut through all of the nocturnal sleaze with the type of down-in-the-mouth sincerity that leads to visceral, revenge-driven rage. Singer-mime Philippe Clay astounded his late 50s constituency with his remarkable transformation into a vicious, black-humored thug; more than requisite eye-candy for this "white slavery" tale is provided by blonde Estella Blain and brunette Magali Noel (who, like Clay, knew her way around a Boris Vian tune). With a suitably bleak jazz score from Art Blakey & The Jazz Messengers. With Robert Hossein, Estella Blain, Magali Noël, Jacques Dacqmine, Jane Marken, Philippe Clay.
Dir. Edouard Molinaro (1959, 85 min.) Dialogue by Albert Simonin. Adaptation by Albert Simonin & Gilles Morris-Dumoulin from a novel by Gilles Morris-Dumoulin. Photographed by Robert Juillard.
THE WRETCHES / LES SCÉLÉRATS 7:45
The legend is that Dard wrote the source novel from a "premonition" of marital disaster that he saw in his film-crowd friends—including Hossein (married to Marina Vlady at the time). By the time the book was published, Hossein was indeed divorced—and, in his misery, decided to make Dard's novel into a film! While the film was in pre-production, his friend Henri Vidal died at age 40 (heart attack due to the lingering effects of drug abuse); his widow, Michèle Morgan, then signed on to play the part of the distraught wife as a way to work through her own desolation. The result is a unique tale of grief, obsession, decadence, and innocent voyeurism (in the form of doe-eyed innocent Perrette Pradier, who wanders into the lives of the star-crossed, wretched couple and winds up doing the exact opposite of "being cruel to be kind"). With a wild, startling "New Wave" party orchestrated by Hossein's composer-musician father André.
Dir. Robert Hossein (1965, 89min.) Dialogue by André Tabet & Georges Tabet. Screenplay by André Tabet, Georges Tabet & Robert Hossein from a story by Claude Desailly & Robert Hossein. Photographed by Alain Levent.
THE GAME OF TRUTH / LE JEU DE LA VÉRITÉ 9:30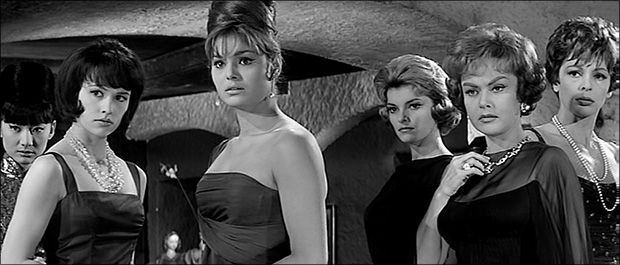 To get the proper "Agatha-Christie-gone-to-seed" flavor for this locked-room mystery where a "game of truth" turns deadly, Hossein turned to veteran playwright Steve Passeur, who'd written dialogue for Abel Gance. With brittle badinage in place, he then hired Christian Matras to lock down the lightings/angles that added an icy edge to the social monsters trapped in an outré mansion standing in for the "old dark house." The final touch: a cunning cast that's literally dressed to kill—with the strangest of all cameos handled by Hossein himself. The "game of truth" is what happens to the "ten little indians" when they've been allowed to indulge in too much conspicuous consumption; while the proceedings within the film are grim indeed, by all accounts the actors had a blast "playing bad." With Robert Hossein, Paul Meurisse, Jean Servais, Jean-Louis Trintignant, Nadia Gray, Françoise Prevost, Dahlia Lavi, Perrette Pradier, Jeanne Valérie, Georges Rivière, Jacques Dacqmine.
Dir. Robert Hossein (1961, 80min.) Dialogue by Steve Passeur. Scenario by Robert Chazal & Jean Serge. Adaptation by Louis Martin, Jean Serge, Robert Chazal and Robert Hossein from a story by Robert Hossein. Photographed by Christian Matras.