SUNDAY MATINEE, MAR 22 STATHIS GIALLELIS IN PERSON
THE REHEARSAL / I DOKIMI 1:30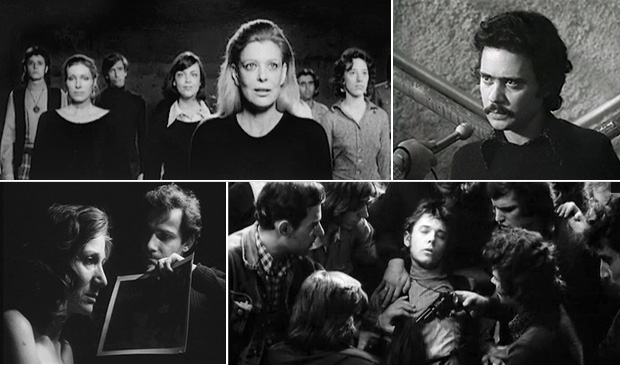 Dir. Jules Dassin (1974) 92 min.
The Greek actor Stathis Giallelis (pronounced STATH-is YE-a-lel-EASE) was an overnight sensation as the protagonist in Elia Kazan's AMERICA, AMERICA (1963), the great American director's epic reflection on his Greek grandfather's emigration to the United States. An artist of deep social and political conviction, Giallelis eschewed subsequent Hollywood opportunities and chose to make films reflecting the tumult of the times. He would eventually leave show business due to a dearth of projects that fit these criteria.
That commitment culminated in a singular project with blacklisted American director Jules Dassin and his wife, beautiful and brainy Melina Mercouri, a tireless activist for human rights, both in her homeland (Greece) and around the world. THE REHEARSAL, a uniquely "Brechtian noir," commemorates the brutal slaughter of Athenian college students at the hands of the Greek military in November 1973. An international all-star cast, led by Mercouri, Dassin, Laurence Olivier, Arthur Miller, Olympia Dukakis and more, re-enact and comment upon the senseless tragedy on a darkly-shaded set that is always on the brink of the fatal barricades it is referencing.
This is the West Coast premiere of a film that was rendered "irrelevant" by the swift, unexpected "regime change" in Greece just as THE REHEARSAL was ready for release. A viewing of it, however, will convince you that the themes it explores—and the darkness it both curses and tries to overcome by the candlelight of pure humanism—are ones that will continue to resonate for as long as freedom and equality are in peril.
STATHIS GIALLELIS IN PERSON!
Stathis Giallelis interview with film historian and author Foster Hirsch follows the screening of THE REHEARSAL.
THE OGRE OF ATHENS / O DRAKOS 4:00

Dir. Nikos Koundouros (1956) 103 min.
DIRECTOR Nikos Koundouros was Giallelis' first mentor and collaborator. The two met shortly after Koundorous directed what is considered by many to be the greatest film ever made in Greece: O DRAKOS (aka THE OGRE OF ATHENS). Think Walter Mitty with a deadly, delusional twist. Greece's great comedic star of stage and screen, Dinos Iliopoulos, is a revelation as the meek, mild man who decides to "seize the day" when he discovers that he's a dead ringer for a notorious crime boss ("Drakos," the "dragon," the "ogre of Athens").
How long can his impersonation last? Clearly not as long as one will remember the strange, vicarious exhilaration of plunging into the dark side, accompanying a little man who comes to revel in his rash excursion into the underworld. No American noir will break your heart the way O DRAKOS does: gently but irrevocably.