SATURDAY MATINEE, DEC 13

(1960) 2:00

UNE MANCHE ET LA BELLE
A KISS FOR A KILLER
(1957) 4:30
SATURDAY EVENING

(1962) 7:00

CHAIR DE POULE
HIGHWAY PICK-UP
(1962) 9:00
SUNDAY, DEC 14

CHAIR DE POULE
HIGHWAY PICK-UP
(1962) 2:00, 7:00

(1960) 4:30, 9:15
MONDAY, DEC 15

CHAIR DE POULE
HIGHWAY PICK-UP
(1962) 7:00

(1960) 9:15
TUESDAY, DEC 16

UN TEMOIN DANS LA VILLE
WITNESS IN THE CITY
(1959) 7:00

J'IRAI CRACHER SUR VOS TOMBES
I SPIT ON YOUR GRAVES
(1959) 9:15
WEDNESDAY, DEC 17

UNE MANCHE ET LA BELLE
A KISS FOR A KILLER
(1957) 7:00

UN TEMOIN DANS LA VILLE
WITNESS IN THE CITY
(1959) 9:00
THURSDAY, DEC 18

CHAIR DE POULE
HIGHWAY PICK-UP
(1962) 7:00

J'IRAI CRACHER SUR VOS TOMBES
I SPIT ON YOUR GRAVES
(1959) 9:15
*Note that all films will be shown with English subtitles.
TUESDAY, DEC 16, 2014
UN TÉMOIN DANS LA VILLE / WITNESS IN THE CITY 7:00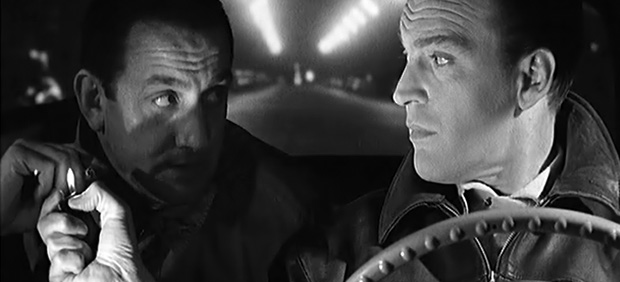 France's greatest character lead in the 1960s and 70s, Lino Ventura, has his breakout role here, as a revenge murderer who finds that his "perfect crime" was witnessed by a cab driver and must try to eliminate him. As events unfold, Ventura finds that he is as much hunted as hunter. Stunning night photography from Henri Decaë (BOB LE FLAMBEUR, ELEVATOR TO THE GALLOWS), and an evocative score featuring jazz greats Kenny Clarke and Kenny Dorham. Dir. Eduard Molinaro (1959, 86 min.)
J'IRAI CRACHER SUR VOS TOMBES / I SPIT ON YOUR GRAVES 9:15
See the notorious film that literally killed the author of its source novel at its own premiere! Boris Vian's fever-dream novel of a light-skinner race-avenging psychopath had been the focus of intense controversy beginning with its publication in 1946, and the prospect of a film version brought the twelve-year contretemps squarely back into the public eye, with Vian and director Michel Gast trading barbs in the press as the movie went into production. Ten minutes into the initial screening on June 23, 1959, Vian rose from his seat, furiously denouncing the film—at which point, he clutched his chest and collapsed, suffering a fatal heart attack! He was only 39.
I SPIT ON YOUR GRAVES features a fine jazz score composed by Alain Goraguer, which goes down smoothly amidst all the mayhem that ensues in Gast's crude but effective evocation of Vian's dark landscape. Dir. Michel Gast (1959, 109 min.)