MONDAY, MAR 23 OFF THE RAILS
ASSAULT ON THE PAY TRAIN / ASSALTO AO TREM PAGADOR 7:00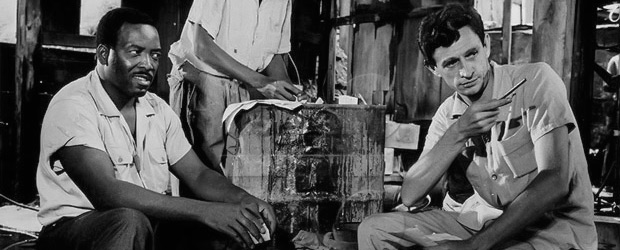 Dir. Roberto Farias (1962) 102 mins.
YOUR last ports of call—Brazil and Poland, where we will leave you languishing by the Baltic in the jazzy haze of a surreal, impenetrable journey.
BUT first, prepare yourself for an unusually ferocious heist film, based on a real-life 1960 train robbery outside Rio de Janiero. Director Roberto Farias pulls no punches in identifying the root causes for this daring crime: utter poverty and unrelenting squalor. ASSAULT ON THE PAY TRAIN is also an assault on the divide between haves and have-nots, and the desperation that explodes into criminality when that divide becomes too great.
Farias' greatest achievement, however, might be in showing the moral relativity that comes into play as the bandits first ascend into folk heroism, only to undermine their position with the underclass that would protect them by rash and immoderate actions once they've obtained the loot. The cat-and-mouse game between the police and the criminals is as much a battle of crowd psychology as it is detective work.
Non-actor Eliezer Gomez, who plays the criminal mastermind with a commanding presence, found himself lifted to stardom as a result of his performance, even appearing in American films before his untimely death in 1974.
NIGHT TRAIN / POCIAG 9:15
Dir. Jerzy Kawalerowicz (1959) 99 mins.
NIGHT TRAIN is like no other European noir—more than any other film made in the "classic noir" era, it operates like jazz, with theme and variations, recurring motifs that shift in tone and emphasis when repeated, and an elliptical melody (read: plot) that remains suspended in mystery even after the "crime" is solved.
A mysterious man and a beautiful but troubled blonde are forced to share a compartment on a train heading from Warsaw to the Baltic Sea. There has been a murder, and each is hiding something. Director Jerzy Kawalerowicz reshapes tone and alters tempo, effortlessly managing to keep both characters and audience off-balance, yet never separated from the serpentine movement of his story. NIGHT TRAIN's haunting, ethereal jazz score (a portion of which is sung by what must be sirens from the Baltic Sea) only makes the journey that much more mysterious. You will be humming that theme—perhaps incessantly, perhaps against your will—as you make your own nocturnal travel arrangements.