AUGUST 11-12 AT THE 4-STAR!
MIDCENTURY PRODUCTIONS PRESENTS FRANCO-AMERICAN NOIR
Something new under the sun for film noir aficionados! Don Malcolm urges you to join him at the 4-Star Theater for the first of three six-film mini-series matching up French and American film noirs. It's the first time anyone anywhere has done it—and Don says that you will "vive la différence" as he presents his uncanny pairings.
FRIDAY, AUG 11
THE POSTMAN ALWAYS RINGS TWICE +
LE DERNIER TOURNANT / THE LAST TURN
Friday the 11th brings two versions of a James M. Cain classic: the MGM-Hollywood version of THE POSTMAN ALWAYS RINGS TWICE (1946), with Lana Turner and John Garfield, followed by LE DERNIER TOURNANT aka THE LAST TURN (1939), the first-ever adaptation of Cain's famous novel (directed by "godfather of French noir" Pierre Chenal).
Come see a very different femme fatale (played by doomed actress Corinne Luchaire) as she uses her teenage charms on an unwitting Fernand Gravey. The victim is none other than noted monstre sacré Michel Simon! Program begins at 7:15 pm.
SAT MATINÉE, AUG 12
DECOY + LA FILLE DU DIABLE / THE DEVIL'S DAUGHTER

Saturday the 12th kicks off with an explosive matinée: the consummately brutal B-noir DECOY (1946), with Jean Gillie as the most unrepentant moll of all time! But the second film features Andrée Clément (Don's favorite French actress) as LA FILLE DU DIABLE aka THE DEVIL'S DAUGHTER (1946), a scorned girl bent on a savage revenge against her community. She, too, must be seen to be believed! Program begins at 2:00 pm.
SATURDAY EVENING, AUG 12
THE BIG COMBO + RAFLES DE LA VILLE / SINNERS OF PARIS

The evening show shows two different takes on bad men, asking the question: are cops any better than the criminals they chase? Both films come to a similar conclusion via vastly different means.
THE BIG COMBO (1955) features a sadistic crime boss (Richard Conte) pitted against an obsessive cop (Cornel Wilde), while RAFLES SUR LA VILLE aka SINNERS OF PARIS (1958) brings us a cop (a young Michel Piccoli) chasing an escaped gang boss (Charles Vanel) who's willing to put his partner's life in danger when he develops a yen for his partner's wife (Danik Patisson). Program begins at 7:15 pm.
⤍ View/download the Franco-American Noir at the 4-Star Theater postcard PDF with showtimes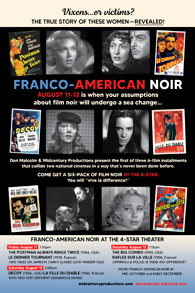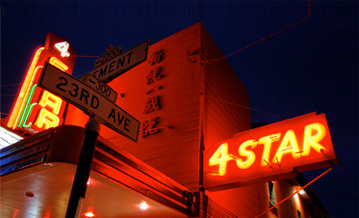 The 4-Star Theater is located at 2200 Clement Street, at the corner of 23rd Ave, San Francisco. The box office can be reached at: 415-418-6712.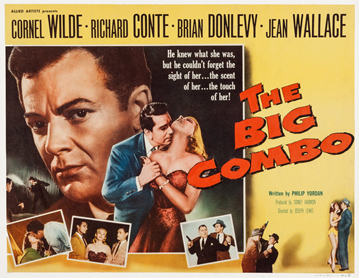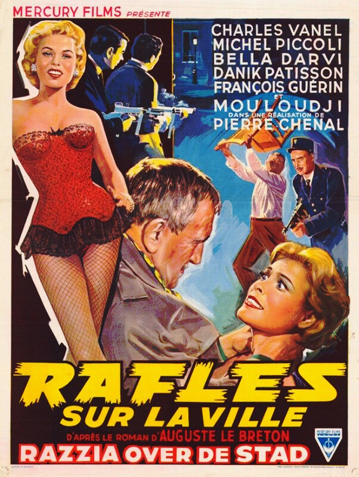 The Big Combo + Sinners of Paris / Rafles sur la ville on Sunday evening, August 12
AT THE ROXIE AUGUST 13-19-20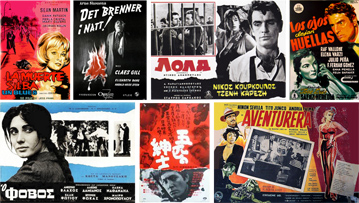 A RARE NOIR IS GOOD TO FIND 3
Featuring thirteen insanely rare international noirs — including nine never before screened in the U.S.— A RARE NOIR IS GOOD TO FIND 3 comes to the Roxie Theatre on August 13-19-20.
GO HERE for program information and showtimes
❖ Subscribe to our mailing list for show updates and subscriber discounts.

MIDCENTURY PRODUCTIONS is a "boutique" programming venture designing "mini film festivals, featuring films from cinema's most explosive three decades—the 1940s, 1950s, and 1960s. We program original festivals and work with organizations and individuals to craft singular programming that illuminates the hidden corners of these three decades.
If you're not yet on our mailing list, why not? Members receive special discounts and are eligible for our free giveaways, special prizes, and contests. And we keep you informed about what we're up to in our newsletter. Best of all—it's free! SIGN UP HERE