FRENCH '22 HAS THE RARE GEMS!
MCP's faithful have been ultra-supportive in 2022. We can't thank you enough for your fantastic response to MIDCENTURY MADNESS!
But times are tough, and in order to keep the flame of our efforts alive for the future, THE FRENCH HAD A NAME FOR IT '22 is a very limited engagement. The series plays in the Little Roxie, where there are only 45 seats available, with 40 passes on sale now. (We're sorry that it's like this, but—as we said...times are tough.)
While the venue is small, the festival is still BIG—fifteen films in all with 11 new rarities ranging from the Occupation during WWII all the way to the early 1970s. Four fantastic festival favorites will be re-screened, including films featuring Jean Gabin and seminal FRENCH HAD A NAME FOR IT rediscovery Robert Hossein.
Many familiar faces will appear on screen: Simone Signoret, Alain Delon, Lino Ventura, Jean-Louis Trintignant, Romy Schneider, Françoise Arnoul, Pierre Brasseur, and Eddie Constantine.
It's another sensational and unprecedented lineup of films, continuing its game-changing look at French noir and the history of French cinema, while simultaneously widening and refining our understanding of film noir itself. November (some call it "Noirvember"...) is the perfect time to immerse yourself in these impossible-to-see rarities from what Don calls "the lost continent."
"Film festivals can sometimes be important vehicles for transforming people's understanding of cinema history. So it has been with Don Malcolm's annual The French Had a Name for It festival at the Roxie Theater, which since 2014 has been rewriting the history of film noir and resurrecting the mostly forgotten treasures of French noir."
—Mick La Salle, Datebook Pick - SF Chronicle
Read MCP head honcho Don Malcolm's overview of the festival on his Substack, and his accompanying feature on Mylene Demongeot, a truly iconic French noir actress who is getting a "repeat tribute" on Monday, November 7. Her performances in A Kiss for A Killer (1957) and That Night... (1958) are electrifying. Watch for additional updates on Facebook and Twitter.
THE FRENCH HAD A NAME FOR IT '22
PART I: NOVEMBER 6-7
SUN MATINÉE - NOV 6

Madness runs in the family

GOUPI MAINS ROUGES
IT HAPPENED AT THE INN
(1943) 12:30 pm
dir. Jacques Becker


LA TÊTE CONTRE LES MURS
HEAD AGAINST THE WALL
(1959) 2:30 pm
dir. Georges Franju
SUN EVENING - NOV 6

Pierre Granier-Deferre + Simenon with Ventura, Signoret, Delon, Trintignant & Schneider!

CLOPORTES
THE METAMORPHOSIS OF WOODLICE
(1965) 5:00 pm
dir. Pierre Granier-Deferre

LA VEUVE COUDERC
THE WIDOW COUDERC
(1971) 6:45 pm
dir. Pierre Granier-Deferre

LE TRAIN
THE LAST TRAIN
(1973) 8:30 pm
dir. Pierre Granier-Deferre
MON, NOV 7

Tribute to Mylene Demongeot with Henri Vidal, Maurice Ronet, Jean Servais

UNE MANCHE ET LA BELLE
A KISS FOR A KILLER
(1957) 6:30 pm
dir. Henri Verneuil

CETTE NUIT LÀ
THAT NIGHT...
(1958) 8:30 pm
dir. Maurice Cazeneuve
PART II: NOVEMBER 12-13
SAT MATINÉE - NOV 12

Edmond T. Gréville

MÉNACES
THREATS
(1940) 12:30 pm
dir. Edmond T. Greville


LE DIABLE SOUFFLE
THE DEVIL'S BREATH
(1947) 2:30 pm
dir. Edmond T. Greville
SAT EVENING - NOV 12

Is possession nine-tenths of the law?

LE MAIN DU DIABLE
THE HAND OF THE DEVIL aka SINNERS' CARNIVAL
(1943) 5:00 pm
dir. Maurice Tourneur

SORTILÈGES
SPELLS
(1945) 6:45 pm
dir. Christian-Jaque
SUN MATINÉE - NOV 13

Homage à Françoise Arnoul (1931-2021)

LA CHATTE
THE CAT
(1958) 12:30 pm
dir. Henri Decoin

LUCKY JO
(1964) 2:15 pm
dir. Michel Deviller
SUN EVENING - NOV 13

Can one walk upright when they're on the run? Featuring GABIN and HOSSEIN...

AU-DÉLA DES GRILLES
THE WALLS OF MALAPAGA
(1949) 5:00 pm
dir. René Clément

CHAIR DE POULE
HIGHWAY PICKUP
(1963) 6:45 pm
dir. Julien Duvivier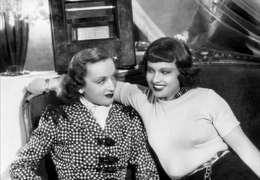 THREATS

THE DEVIL'S BREATH

SPELLS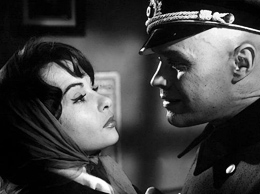 THE CAT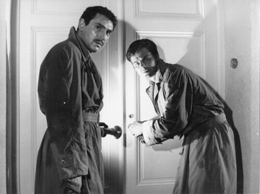 HIGHWAY PICKUP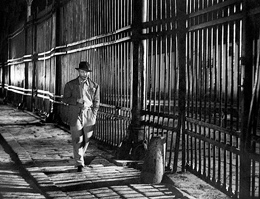 THE WALLS OF MALAPAGA

San Francisco's Roxie Theatre is located at 3117 16th St. between Valencia & Guerrero, one block from 16th & Mission BART. Box Office: 415.863.1087

MIDCENTURY PRODUCTIONS is a "boutique" programming venture designing "mini film festivals, featuring films from cinema's most explosive three decades—the 1940s, 1950s, and 1960s. We program original festivals and work with organizations and individuals to craft singular programming that illuminates the hidden corners of these three decades.
If you're not yet on our mailing list, why not? Members receive special discounts and are eligible for our free giveaways, special prizes, and contests. And we keep you informed about what we're up to in our newsletter. Best of all—it's free! SIGN UP HERE