THE FRENCH HAD A NAME FOR IT 5 ROCKS THE ROXIE!
Despite a "noir situation" that descended upon San Francisco as a result of the tragic fire in Paradise, CA, FRENCH 5 and its fans overcame a week of horrific air quality to produce the most intriguing French film noir festival yet—20 films that chronicled lost gems from 1949-1959 and took the audience even deeper into "the lost continent" of French film noir.
The stage had been set in previous years, with 50+ films from four decades (1930s-1960s). Midcentury Productions Executive Director Don Malcolm discovered a kindred critical spirit in the San Francisco Chronicle's primary film critic Mick LaSalle, whose rave about FRENCH 5 went further into the "big picture" issues driving the entire series, emphasizing how our understanding of French film noir—and the history of film noir itself—was being transformed by the series, one film at a time.
"American movies were forced, by censorship, to conform to a rigid code that mandated, for example, that all crime had to be punished. But French noir was unshackled, and so filmmakers could take their movies to any place they wanted. Anything could happen, and everything did....The festival kicks off Thursday, Nov. 15, and my first recommendation is total immersion: make this all you do for six whole days....Really, you can walk into the Roxie at any time between Thursday night and Tuesday, Nov. 20, and find something unexpected and good that you might otherwise have never had a chance to see." → READ
—Mick LaSalle, SF Chronicle
Hundreds of visitors to the Roxie over the six day schedule (November 15-20) followed LaSalle's advice and immersed themselves in an astonishingly wide array of "hidden in plain sight" French noir classics. Familiar faces—Jean Gabin, Jeanne Moreau, Simone Signoret, Danielle Darrieux, Bernard Blier, Marina Vlady and Robert Hossein—alternated with new discoveries such as Henri Vidal, Raymond Pellegrin, Michel Auclair, Maria Mauban, Marcel Mouloudji and Daniel Ivernel, confirming the depth and range of France's immersion in movies with a relentlessly dark edge.
What films did they anoint? In the post-series polling, strong support was found for eighteen of the twenty films in FRENCH5 —the most all-encompassing approval of Malcolm's singular programming to date. The dark love story LA PASSANTE/THE PASSERBY was lauded as the most beautifully photographed film in the series, while crackerjack crime films set in Marseille (PORT DU DESIR/HOUSE ON THE WATERFRONT) and Paris (RAFLES SUR LA VILLE/SINNERS OF PARIS) had all the edginess of American noir and something more. The locked-room thriller MARIE-OCTOBRE/MARIE X thrilled audiences for its tense moments of reckoning provided by a stellar cast. And the matchless Jeanne Moreau blossomed into the "sexy but strange" inscrutable superstar in two 1957 noirs, JUSQU'AU DERNIER/UNTIL THE LAST ONE and LES LOUVES/THE SHE-WOLVES.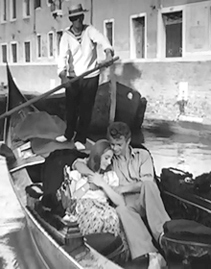 But it was doomed love that moved the audience most of all—in Andre Cayatte's LES AMANTS DE VÉRONE/THE LOVERS OF VERONA, with indelible performances ranging from young lovers (Anouk Ai
mee and Serge Reggiani) to unhinged lunatics (Pierre Brasseur and Marcel Dalio). More than anything, Andre Cayatte's masterful film proved LaSalle's assertion that great filmmaking abounded in France during the 40s and 50s—an assertion that Don Malcolm has been proving to Roxie audiences for five years running.
What's in store for 2019? Join the Midcentury Productions mailing list (if you haven't already) and be among the first to know. A special spring series (THE FRENCH HAD A NAME FOR IT 5½) is already in the planning stages and is scheduled for sometime in May. We promise that 2019 will be the biggest year yet for French noir!